Academics > Departmental Web Sites > Early Childhood Education > eCDA

at NCC is an innovative online preparation for the Child Development Associate (CDA) Credential.
Learning occurs through interactive, virtual scenarios facilitated by qualified faculty.
Enroll in eCDA and...
Be prepared for the
Center-based CDA Preschool Assessment
- or -
Center-based CDA Infant Toddler Assessment
Family Child Care Practitioners Accomodated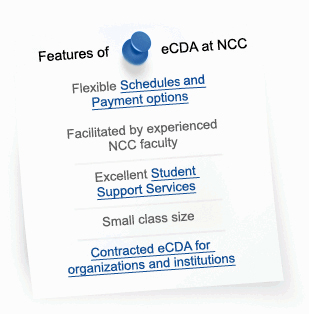 Features of eCDA at NCC
eCDA courses helped me to further appreciate the teaching profession and inspired me to want to continue to grow in the field. I have great respect for people committed to working in early childhood education. read full
E. Daly, eCDA Student
There are many strengths about eCDA, including the curriculum, the way in which the syllabus and assignments are structured and of course the discussion board...read full
C. Kuker
Very interactive with a variety of hands on activities; prepares students for CDA and improve their skills as competent teachers of young children...read full
S. Shay
eCDA is produced by Teaching Strategies, Inc. and is based on their Caring for Preschool Children and Caring for Infants and Toddler books.
CDA is the nationally recognized Credential sponsored by the Council for Professional Recognition for entry level positions in early care and education including Head Start programs.